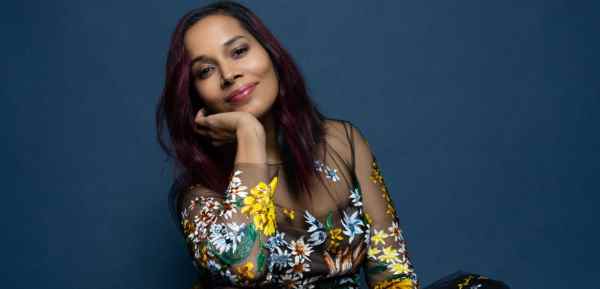 Rhiannon Giddens
You're The One
Nonesuch
Review by George De Stefano
In a Facebook post about her latest album, Rhiannon Giddens self-deprecatingly joked that it wasn't until she turned forty-six that she finally made a record composed entirely of her own songs. But maturity has its rewards. With You're the One, the singer, banjoist, and violinist delivers the most assured and enjoyable work of her career. She weaves together the various strands of her brand of Americana (blues, folk, country) more cohesively than on her debut as a solo artist, Tomorrow is My Turn (2015). She mixes styles with flair and confidence, and her singing, which at times could be note-perfect to the point of sounding studied, now has a welcome looseness and freedom. The pure tones and deft way with melody (legacies of her opera training at the Oberlin Conservatory) are still there, but she can dirty up a line with bluesy growls and moans.
This is Giddens' third solo outing since the Chocolate Drops went on what now looks like a permanent hiatus. She followed up Tomorrow is My Turn with Freedom Highway (2017). In 2019, Giddens teamed up with three other Black banjoists - Amythyst Kiah, Allison Russell and Leyla McCalla, for the album Our Native Daughters. That year, she also made There is No Other, the first of her collaborations with her new musical and romantic partner, Italian multi-instrumentalist Francesco Turrisi, followed by They're Calling Me Home (2021), a GRAMMY award winner for Best Folk Album. Her opera, Omar, for which she wrote the music and libretto (with collaborator Michael Abels), won a Pulitzer Prize. And that's hardly all. In 2023, she became the artistic director of Yo-Yo Ma's Silkroad Ensemble and co-authored two children's books. Giddens has also written and recorded the music for the popular video game "Red Dead Redemption II" and hosts a PBS series, "My Music with Rhiannon Giddens."
Somehow, the hardest-working woman in contemporary roots music found the time to write and record You're the One. She had help with the material; eight of the eleven tracks were co-written—with singer-songwriter Bhi Bhiman, who has been her opening act; blues singer Keb Mo; Dirk Powell, a multi-instrumentalist and member of her band; her sister, vocalist Lalenja Harrington; and country singer Marcus Humman. Giddens plays "minstrel" and "modern" banjos and viola; Lalenja Harrington and Jason Isbell provide backup vocals, and Leyla McCalla is on cello. Francesco Turrisi plays piano, tamburello and other frame drums, piano, and accordion. The album's ensemble also includes percussionists Terrence Grizzle Jr. and Humberto Ibarra, keyboardist Dwayne Bennett, guitarist Eric Escanes, bassist Tadarius "T Ray" McCombs, and Dirk Powell on accordion, piano, fiddle, and guitar. A horn section rounds out the twelve-piece band.
You're the One is consistent with Gidden's previous work, but it's also a departure from it. "I just wanted to expand my sound palette. I feel like I've done lots in the acoustic realm, and I certainly will again," she says. "But these songs really needed a larger field." Besides enlisting more musicians than usual, Giddens hired Jack Splash, a pop producer who has worked with Kendrick Lamar, Solange, Alicia Keys, Valerie June, and Tank and the Bangas. He helped her craft a diverse but cohesive roots album with a pop sheen. "I hope that people just hear American music," says Giddens. "Blues, jazz, Cajun, country, gospel, and rock—it's all there. I like to be where it meets organically."
The various styles fit together seamlessly, demonstrating the range of Giddens' songwriting and vocal talent. The opening track, "Too Little, Too Late, Too Bad," shows off her rhythm and blues chops. Written with Dirk Powell as an homage to Aretha Franklin, it has a horn section, Sweet Inspirations-like backup vocals, and you can dance to it. Giddens turns in a warm and vibrant vocal performance, mixing high notes with low, bluesy tones. The horns return for the soul ballad, "Wrong Kind of Right," along with acoustic guitar and a string section. Giddens' heartfelt vocal renders the pathos of realizing that there is an unbridgeable disconnect with one's lover. She's much more optimistic and upbeat on "Yet to Be," a duet with Jason Isbell, about a romance between an Irish immigrant and a Black American woman born on a farm, whose chance meeting in a bar is "a divine collision of the human heart."
On "Louisiana Man," Giddens bids farewell to a heartbreaker ("You burned my bed, lit up my sky") on one of the album's sonically richest tracks. The arrangement nods to Cajun music but doesn't aim for genre authenticity, with a layered but uncluttered sound that centers Giddens' banjo along with tamburello, fiddle, accordion, keyboards, horns, electric bass, and drums. If the man from Louisiana gets a kiss-off, the rollicking "You Put the Sugar in My Bowl" finds Giddens exulting in sexual euphoria. The song's obvious inspiration is Bessie Smith's bawdy "Need a Little Sugar in My Bowl," so there are some tasty sex-as-food metaphors. But whereas Smith expressed need, Giddens, backed by barrelhouse piano, organ, and horns, celebrates what she's got: "Nobody fits me like you do/Not one man measures up."
Giddens channels Dolly Parton on "If You Don't Know How Sweet It Is," laying down the law to a spouse who takes her for granted—"If you don't know how sweet it is, get on out of my kitchen." Giddens' sassy, no-nonsense delivery is a joy to hear. But I admit, if somewhat guiltily, that when I hear Giddens deliver those lines, I imagine a commercial for a downhome restaurant –Rhiannon's Country Kitchen, where customers better show their appreciation or be shown the door.
Two other tracks are pure pop. The unabashedly sentimental and hook-y "You're the One" recalls Giddens' rush of emotion over the birth of her son: "I never thought I'd fall/but you're the one." The ballad "Who Are You Dreaming Of?" with flute and strings, would work well on the soundtrack of a 1940s Hollywood romance. Giddens sings it beautifully, in her creamiest tones, but it's the album's outlier, the only track that doesn't quite fit.
Giddens is a politically outspoken artist, particularly about race and gender, and the album's most powerful song, "Another Wasted Life," is an angry and anguished account of racial injustice. It was inspired by Kalief Browder, a Black teenager incarcerated without trial in New York's notorious Rikers Island prison complex for allegedly having stolen a backpack. Browder was put in solitary confinement for nearly two years. After his release in 2015, the traumatized youth hanged himself at his mother's house. Giddens says she had Nina Simone's riveting songs of protest and resistance in mind when she wrote "Another Wasted Life." Her slow-burning rage at a system that subjects young Black men like Browder to "a torture of the soul" builds to a stunning coda. Over piano chords, programmed drums, and buzzing synth, Giddens abandons lyrics for wordless moans and ululations. It's a gut punch of a song.
You're the One demonstrates Giddens' mastery of different styles and her skill at blending them into a distinctive signature sound. She's achieved her aim of making an album where the various strains of American vernacular music "meet organically." It's also got a rich emotional palette of joy, lust, love, sorrow, and anger. On a track from her 1967 album, Nina Simone Sings the Blues, Simone asks her lover, "Do I move you?" She'll entertain only one possible response: "The answer better be, yes, yes." Were Rhiannon Giddens to pose the same question, I know what my reply would be.
Further listening:
Giddens, Kiah, McCalla, and Russell: Songs of Our Native Daughters
Jake Blount: The New Faith
Lakou Mizik: HaitiNola