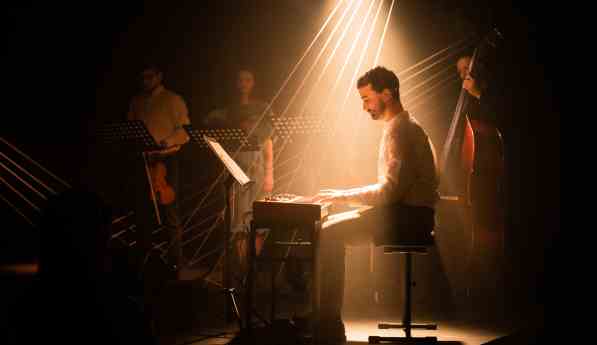 Ondro A Kamaráti
Pod Obločkom
Môlča Records (www.molcarecords.com)
Review by Andrew Cronshaw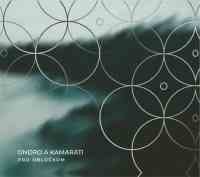 I dipped into this album online and as a result, I asked for a physical CD to review. When it arrived, the first two tracks made me wonder why I said I'd review it.
The opener, indeed the title track, is a treatment of a song from the Horehronie region in the Low Tatras, in the north of central Slovakia. I'm particularly drawn to the music from there with its very characteristic combined lydian-mixolydian mode and splendid strong, loud polyphonic singing which is now on the UNESCO list of Intangible Cultural Heritage. And indeed this first song is in the dialect of the village I'm most fond of, one of Slovakia's most noted for its living traditional music, Šumiac.
But here, while elegantly sung and played, the track, and the one from Pohronie that follows it, give an impression of blanded-out, male-voice crooned light-popular music. And both feature whistling, of the mouth variety, which can be an appealing touch, that worked rather well for Ennio Morricone, but not on two tracks in succession. However, these songs obviously have nostalgic resonances for Ondrej Druga, known as Ondro, the singer, accordionist and pianist whose album this is, who grew up in Horehronie's largest town, Banská Bystrica. They could easily have fitted elsewhere in the running order; it's a pity that they open the album, one after the other, giving a misleading suggestion of what follows, which is very fine, varied and interesting.


"Pod Obločkom"
(excerpt)


"Hora Mi Je Hora"
(excerpt)
The transformation into the album I wanted to review comes with the third track, "Hora Mi Je Hora." A brief tinkle of piano, then in soars the strong, traditional voice of Sabína Ladecká (she and Druga were colleagues in the dance group Lúcnica) in a song from the Horehronie village of Vernár. Druga joins her with a much more powerful voice than he used in the first two tracks, then the track really opens up gloriously as violins, viola and double bass join the piano in an arrangement (by Druga, as are all) that's anthemic, rich, indeed lush, but really comprehends the modal nature of the melody, and both singers let rip, individually and in duet. And, following it comes "Preleť Vtačku," a song from another of the most musical Horehronie villages, Telgárt, that was popularised by the region's best-known singer in the past, Ján Ambróz. It is sung in classic Horehronie polyphony by Druga and three other stirring male voices. The effective addition of church organ isn't traditional, but is the result of Druga and fellow-singer Michal Dudáš being asked to sing at a wedding in a church with an organ (they're not found in the churches of these villages in the east of Horehronie, which are of Eastern Orthodox liturgy).
In "Ez Už Som Prešjov" Druga's voice morphs from warm and close to high-soaring, with a powerful arrangement of piano and strings. "Išlo Ďjouča," sung by a female quartet with a hefty arrangement from piano, accordion, violin, viola and double bass, is a set of four Slovak folk songs, varying from slow to up-tempo, from the Slovak population in the plain of Vojvodina in Serbia, from whence came Druga's grandfather. Father of that grandfather was a prominent Vojvodina Slovak, Ján Bulík; a member of the Czechoslovak resistance, he was imprisoned, interrogated and executed by the Nazis in 1942. Druga sings, with passion, to accordion with organ and double bass, Bulík's favourite song, "Povedzte Mojej Material" ("Tell My Mother") about a similar arrest, imprisonment and execution.
"V Šírom Poli"
(excerpt)
"V Šírom Poli" ("In A Wide Open Field") is sung in a muscular acapella by the male vocal group, this time a quintet, joined by the more elderly voice of Druga's uncle Vladimir Latinák. He taught them the song, whose melody was originally sung by the Soviet Alexandrov Ensemble and which is linked in local memory with the Slovak National Uprising.
"Jednej Krásnej Noci&rdquo"
(excerpt)
The vocal in "Jednej Krásnej Noci" ("One Beautiful Night") is an archive recording of Martin Sanitrár, who was a shepherd fujara and flute player from near Zvolen, in fujara territory south of Banská Bystrica. He was imprisoned by the Nazis in Mauthausen concentration camp, and wrote the song in another time of totalitarianism, when in 1968 Soviet troops invaded Czechoslovakia to crack down on reformism. Druga has made an arrangement of his sad vocal, using piano and strings. A clock chimes as Sanitrár sings, and, though the booklet notes don't mention it, there's a break on fujara presumably played by him. The combination of past and present blends beautifully.
Barbora Krištofiková gives a sensitive, evocative vocal performance, in Trnava dialect, of "Svíci Mesác" ("The Moon Shines"), accompanied by violins, viola and double bass string ensemble and Druga's piano. "Uboče" is classic Horehronie polyphony from the male vocal quartet, acapella and joined at some points by the strings, piano and accordion, variously slow and up-tempo chugging, in an arrangement of a set of old songs from Telgárt and Šumiac.
"Horička"
(excerpt)