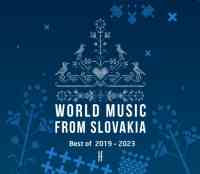 World Music From Slovakia presents an excellent, well programmed and well packaged sampling of the past five years of Slovak roots music releases. But its title raises a question. Are the musicians and bands represented here consciously making something called 'world music' (is that even possible?) or are they simply doing what they do? Well, this is a collection of music that's definitely Slovak in character, with musicians who are experienced and skilled in tradition but open to making new arrangements and combinations.
Compilation albums can be a patchwork of unconnected things, but when like this one they focus on a particular country they can not only make a statement abroad but give an outlet, aspiration and focus to musicians in the country, and indeed create a climate for raising the game. Often, as for example in Finland, Denmark, Latvia, Estonia and more, the generating of an export drive including the making of such compilations is largely the result of the work of one or two determined individuals, often not themselves performers, proselytising and getting arts funders and organisations on board. In this case I suspect that Jarmila Vlcková, who among other things is founder and organiser of Bratislava World Music Festival, has had a lot to do with making it happen.
The twenty tracks on this album, not a weak one among them, exemplify what a head of steam the current Slovak roots scene has developed. Most here have won or been finalists in Slovakia's Radio Head Awards, and quite a few have appeared in the higher reaches of the WMCE and/or TWMC world music charts. Thirteen have credits that include the word 'traditional,' with arranger or co-writer credits to band leaders or members; the remainder are new compositions, and all have pretty highly-developed arrangements. In a nice touch ‒ unusual in compilation albums, the enclosed notes list each track with descriptions, the names of the band or lead musician, all band members, and their instruments.
Obviously I'm not going to detail all twenty tracks; there's a lot in each of them, and they deserve it. But here we go.
| | |
| --- | --- |
| | Zuzana Mojžišová "Zitecko" |
The opener is from a very classy but still traditional-style string-band of swirling fiddles, viola, bass and cimbalom, led by fiddler Michal Noga. The strong, wild voice of Zuzana Mojžišová with a big band line-up of traditional and electric instruments is followed by the relaxed voices of Zuzana Homolová and Samo Smetana with at times almost country-ish guitars and violin. Then the massed traditional vocals and strings of Ľudová Hudba Stana Baláža (Stano Baláž's Folk Music), songwriter Martin Geišberg with the brass and kavals of fine Slovak Balkan-styled band Balkansambel, and Preßburger Klezmer Band's vocals, winds and strings.
| | |
| --- | --- |
| | Muzicka "Brehovcania, Komuze To Hrate" |
Leading traditional dance-house band Muzička has a song from the Slovak population in Serbia's Vojvodina, and Banda, its similarly rather generic name now extended to Banda Slovakia, delivers an uptempo Christmas song. There is heftiness with multiple vocalists from Hrdza, a composition by new quintet Dis Is Markēta sung by Martina Kertészová to piano, cello and strings, and the very fine Ruthenian traditional singer Štefan Štec collaborates with electronic musician and producer Fallgrapp in a spacious electronic-glitchy film theme.
| | |
| --- | --- |
| | Ildikó Kali " Baj Maginhradu" |
Ildikó Kali takes a contemporary approach to her ringing, slow-rolling setting of a text from a 19th-century romantic poet. From Ondro Druga's album Pod Obločkom comes Horehronie male vocal polyphony plus a church organ. Rut Pajorková sings on a high-energy track from multi-instrumentalist Michal Smetanka's album, and Varkocs features buzzing jew's-harp and grinding guttural chanted vocals with driving darabukka.
| | |
| --- | --- |
| | La3no Cubano "Paleo" |
Unlikely but impressive, with some wild synth lines, Latin meets Slovak in "La3No Cubano." Júlia Kozáková's track is a Roma song with rippling cimbalom and fast fiddling combo. Sisa Michalidesová's flute and soprano recorder joins fiddles, sax, accordion, cimbalom and bass in a winding Balkan-influenced melody. There's an intro reminiscent of the Greek "Zorba's Dance" leading to a Slovak melody in a live recording by the string orchestra Solamente Naturali. The album closes with a raggedly rough, though certainly energetic, live collision between Czech singer/violinist Iva Bittová, Slovak Roma musicians and Norway's Stavanger Kitchen Orchestra, all under the name of Angrusori.
| | |
| --- | --- |
| | Angrusori "Joj, So Kerava" |
Find out more from Hudobny Fond / Music Fund Slovakia

Further reading:
Ondro A Kamaráti - Pod Obločkom
Maria Ka - Der Hemshekh (Poland/Russia)
Hrdza - 22
Ponk - Postfolklor (Czech)