N

ew Jersey's Yazoo records had been well known among a certain type of music fanatic for years before musician and record collector Pat Conte released the first two volumes of his Secret Museum of Mankind series. Since at least the mid-1960s, the label had pressed LPs from 1920s and 30s-era blues guitar and piano masters, Hawaiian slide guitar and ukelele show-offs, and early "hot" jazz bandleaders. The liner notes were full of the type of scholarly dryness that cured insomnia; yet the music was anything but. Thanks to the CD format (and Shanachie's acquisition of Yazoo), the label that was once focused largely on pre- World War II African American music was able to reassess its back catalogue, expanding its sonic palette while opening up new vistas for listeners. So, alongside newly edited CD reissues of Blind Willie Johnson or Frank Stokes came full discs' worth of Malagasy song from 1930s Madagascar or furious, rhythmically complex sounds from early twentieth-century Bulgaria. The ground was readied for Conte's largely assorted 8-volume SMM collections. (I recall finding the first two volumes hot off the press in a local record store, buying volume one, and after listening to the first few tracks, immediately pedaling my bicycle back to the shop to get the other one.) No matter how much music- recorded around the world and released on 78 RPM shellac discs- we can now hear, those SMM collections are still amazing. The track curation was uniformly astounding. And Conte's sometimes elliptical, often poetic notes, as well as his seeming disdain for concerns over category or how well a particular track represented a culture (how could a single track do so?) seemed delightfully rebellious in the world of western-heavy ethnomusicological scholarship on such stuff.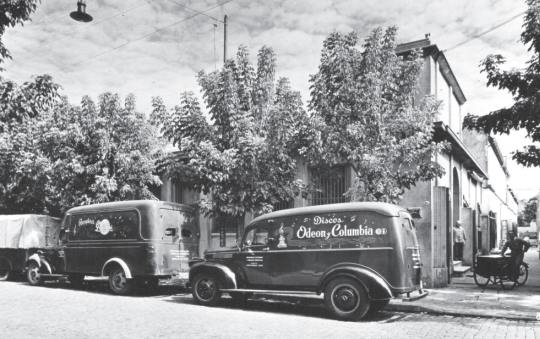 In a much larger way, Excavated Shellac, the ongoing blog run by record collector and music lover Jonathan Ward has continued, one track at a time, Conte's idea of housing music not by genre or geographical area, but by physical media type, 78 RPM shellac. While Conte's collections were bound by the CD format that seemed so expansive only a little over a decade earlier, Ward, since 2007, has continued to fill blogspace with information on the music, the labels, the artists, the circumstances, all of which paints a larger picture of ways in which cultural collisions such as colonialism had already left indelible stamps on the sounds various labels recorded. Yet, even when a label-sponsored field trip resulted in a more "intact" musical documentation, its release was for no other purpose than to generate short term profit as label-owners hoped to sell records back to the cultures that had produced them in the first place. Any preservation that has resulted from these endeavors is due to the enthusiasm and generosity of collectors.
| | |
| --- | --- |
| | |
Ward's work has implied limitations even as it expanded what we know about music. Since all of the music on offer for free download from his blog is from 78s, which means these records were typically three minutes long due to recording constraints, performances that would have naturally been longer had to be abbreviated. Fidelity of the time had issues as well; bass tones were deadened, and certain instruments' subtleties got lost as mixing didn't yet exist. But at the same time, now-rare performances got preserved, certain musicians were rightfully recognized for their talents, and despite shellac's brittleness, much of this music eventually made its way across time and culture.
| | |
| --- | --- |
| | |
Dust to Digital has released a number of other projects curated by Ward (as well as other global 78-era focused collections), but this digital-only release is the first one that truly gives a sense of how his blog operates, in that it bounces around the world from track to track, and with 100 performances, almost none of which has seen prior reissue, it allows for necessary depth. The 186-page PDF booklet contains an insightful introduction and the kind of detailed track-by-track notes anyone familiar with Ward's blog has come to expect.
| | |
| --- | --- |
| | |
But it's the music that makes this such an amazing release. Arguably, it houses some of the most gorgeous sounds any of us with ears to listen has ever heard. Ukrainian bandura player Vassyl Yemetz's performance of, "Z Ukrainskyce Stepiw" bears this out. Never mind that it's the only Ukrainian solo bandura track ever recorded in the US or that it had superior sound due to the Columbia label's tendency to laminate their discs at the time. What's on display here is a sweeping, harp-like dream. Then there's the maddening intrusion of European missionaries and the havoc they wreaked on Sub-Saharan African societies. Yet, the nightmares brought on by colonialism also allowed for Abaimbi Be Kanisa Lutiko Eye Namirembe's "Oje Omwoyo Omutukuvu." Recorded by a choir of Ugandans at a cathedral as part of the Odeon label's East African field trip and distributed through a local church, this record shows the drastic results of one culture's imprint on another in a way that is certainly frustrating. It also makes for some of the most otherworldly vocal-based tranquility ever waxed.
| | |
| --- | --- |
| | |
Stories like these abound as the collection drops Son Jarocho from Vera Cruz, Mexico in the same stew as a rare 1950s-era 78 recorded in Mauritania, the only disc recorded in that country at the time. Italian harp-guitar sonatas bump heads with Kyrgyzstani komuz- driven folk song. Vietnamese ca tru meets Central French cabrette-enhanced drone. The collection is immersive, addictive, and extensive. It also does the good work of continuing to chip away at the often racist tendency to separate "folk" from "classical" or "western" from "ethnic." In fact, Ward uses the term "global music." By doing so he helps challenge our notions of divisions either by geography or colonizer over colonized. Along the way, he gives us some of the most amazing performances ever recorded. To be filed alongside Playboi Carti, Christy Azuma, The Dead C, Miguel Flores, Beatriz Ferreyra, or Bo Diddley. In other words, in that place where music might be stored.
Further reading:
Listen All Around: The Golden Age of Central and East African Music
Luk Thung: Classic and Obscure 78s from the Thai Countryside
Hugh Tracey: The Sounds of Africa
Aegean Blues: the rembetiko renewed
Secret Museum of Mankind