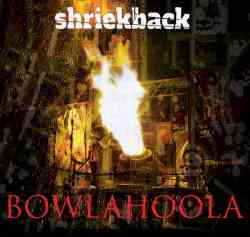 S

hriekback were a big name some 40 years ago, parading their dark, intelligent dance music, their videos spreading the gospel far and wide in the days when MTV was young and daring. Formed by keyboard player Barry Andrews, once of XTC, they had a sound that was completely their own and a taste for curiously enigmatic lyrics.

Spring forward four decades and Shriekback are still going and releasing albums. Except Bowlahoola (the title comes from William Blake*) is actually an Andrews solo project. Not that you'd know it from the music. Even to someone unfamiliar with the band in recent times, the sound is instantly identifiable as Shriekback.

Right from the start of "DooDahRoom," with its powering percussion and brooding keyboards under Andrews's voice (and harmonies from two women named Partridge) it couldn't be anyone else.

But while it might make you feel you're time-travelling at times, it's also decidedly contemporary (check out the lovely disconnect of "The Wolfman Whinesplains" or the industrial plunges that add colour to "Brute Fact View"). The music somehow connects the dots between the 2020s and 1980s, with "Ambergris" a true standout, a song that could have been plucked from '82 and polished up for the modern age. Wryly vintage, but in the very best way, and with a wry, wicked sense of humour in the lyrics and a sprechsang delivery that will force you pay attention.

Today's Shriekback still make music to propel the feet, but they're very much about songs – which brings the realization that they were always really song and dance men. That becomes manifestly apparent on the closing tracks that arrive almost like redemption, especially "We All Lie Down (In The River)," with its hand-on-the-shoulder advice for life and lush vocal finish.

"Think and dance" was a phrase from the 1980s. Listening to this, you can see it's never gone away, and it still satisfies. Electronic music with a richly beating heart and a glowing soul.

Further reading:
Shriekback - 1000 Books
Studio Shap Shap - Le Monde Moderne
Antonis Antoniou - Throisma
Interview: Sheila Chandra

The bellowing furnaces blare by the long sounding clarion
The double drum drowns howls & groans, the shrill fife. shrieks & cries:
The crooked horn mellows the hoarse raving serpent, terrible, but harmonious
Bowlahoola is the Stomach in every individual man. - William Blake's "Milton"