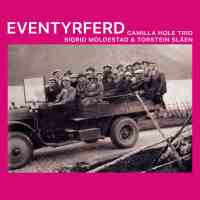 Eventyrferd (Fairytale journey), the second release from Norwegian saxophonist Camilla Hole, demonstrates perfectly how music brimming over with new ideas and varied instrumentation can really work when understatement is the guiding principle, where nothing is ever allowed to outstay its welcome. Sometimes there's more than a brush with free jazz, at other times there's mind-boggling electronic wizardry, but pretty much at the heart of all the tracks is music from, or informed, by Norwegian traditional music - dance tunes, wedding marches and different vocal styles.
For all its mixing of genres the album is safely within RootsWorld territory, broad as that is (the clue's in the name). But sometimes the album does push its luck. In "Den dagen han vartbortført av UFO" ("The day he was abducted by a UFO") we are taken towards extra-terrestial regions, the repeated motif from Egil Kalman's modular synth suggesting a close encounter with something decidedly unworldly.
The other musicians featured are Knut Kvifte Nesheim (drums and vibraphone), Sigrid Moldestad (fiddle and vocal) and Torstein Slåen (guitar and banjo.) Togther, they make Eventyrferd an imaginative and enjoyable album, which will reveal something new with each listen.
Further listening:
Trio Grekow Peev Tsvyatkov - Balkan Groove
Maria Ka - Der Hemshekh
Ondro A Kamaráti - Pod Oblockom